When seeking quality HOA management in Riverside, the key to success is experience! There is no substitute for it, and we have more of it than any other Riverside based HOA management firm. Our unmatched management support team has over 125 cumulative years of experience working on property and HOA management related cases.
The Weldon L. Brown Company, Inc., is a highly respected Riverside based Community Association HOA Management firm, which has been in the property and HOA management business for fifty-eight (58) years. We have been servicing the Common Interest Developments (CID's), Homeowner Associations (HOA), in Riverside and throughout the Inland Empire, since 1963.
The Weldon L. Brown Company can help take your Riverside HOA to a new level of excellence and earn the trust and cooperation of your residents and members.
History of Riverside
The beautiful City of Riverside was founded in 1870 by John North and a group of Easterners. They established a colony on a Spanish rancho to further education and culture. Riverside became the first city in Southern California to have a golf course and polo field. Orange trees were planted in 1871, but the citrus industry did not begin in Riverside until 1873, when Eliza Tibbets received two Brazilian navel orange trees. These orange trees thrived with the Southern California climate and this industry grew rapidly.
Riverside has some very popular landmarks throughout the city, such as the Mission Inn, Chinatown site, the National Packing House, Citrus Experiment Station, and engineering feats like the Gage Canal. Most of these historic landmarks are in Downtown Riverside.
Over the years, the Mission Inn expanded it into a beautiful resort known all over the world. It has hosted numerous movie stars, musicians, and political figures. President Ronald Reagan and First Lady honeymooned there, and President Richard Nixon got married on its grounds. President Teddy Roosevelt planted a tree in 1903, in its courtyard. The members of the Mission Inn built a special chair for President William Howard Taft when he visited. This chair is still at the Mission Inn.
We'd love to talk to you about all of your HOA management needs in Riverside, CA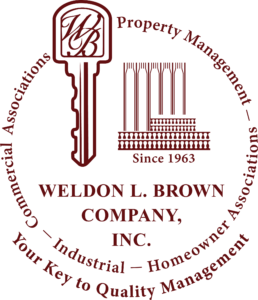 Company Headquarters – Riverside's Canyon Crest
5029 La Mart Dr. Suite C, Riverside, CA 92507
Office: (951) 682-5454
Bud@weldonbrown
Maxwell@weldonbrown.com